Fabric window shades combined with draperies add drama and dimensional beauty in any room. There are many elements involved when combining drapes and window shades. Choosing the colors, textures, fabric type, and patterns can seem like a daunting task. It doesn't have to be! United Decorators recommends choosing the shades first, as the drapes are easier to change.
Covering your windows can be intimidating when you first start looking at all the Hunter Douglas blinds, window shades and wood shutter options. If you leave your windows bare, your place will look unfinished and you will not have privacy or light control. If you over decorate your windows, you stand the chance of losing natural light and not making the most of the natural ambiance the outside world provides. Combining fabric window shades and drapery means superior light control, maximum privacy, added beauty and increased value to your home.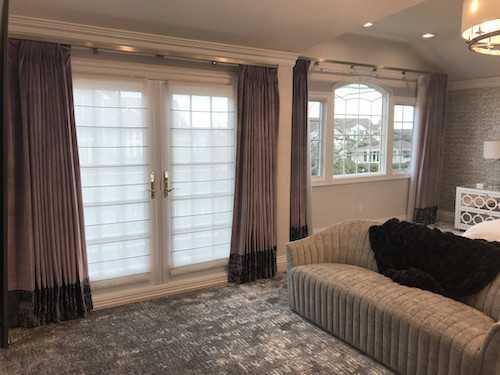 Fabric Window Shades that Will Look superb with Drapery
Fabrics have long been associated with luxury. The textures available on fabrics create different effects. Silky, shimmering fabrics can feel cooling and glamorous, white soft and fluffy fabrics make things feel cozy and warm. Think about what different textures and colors can do throughout your home. A light filtering sheer and room darkening drapes could provide the best of both worlds. It all depends on the size of your room, your windows, and your interior décor and overall design style. Adding layers of fabrics with window blinds and drapes means adding multiple layers of beauty on your windows.
Modern Roman Fabric Window Shades
Hunter Douglas Vignette® Modern Roman Shades add depth and interest when combined with custom drapes. The timeless fabrics and beautiful cascading folds add their own dimension and exceptional beauty when paired with decorative drapery patterns. Adding flowing drapery can elevate the appearance even more and create a complete window fashions look to your windows.
Hunter Douglas Vignette® Modern Roman Shades have no exposed rear cords for an unblemished visual and enhanced child and pet safety. Available in flat or full fold style as well as hundreds of fabrics choices. Roman shades have gorgeous folds that really look stunning with drapery panels for a complete Hunter Douglas window treatment.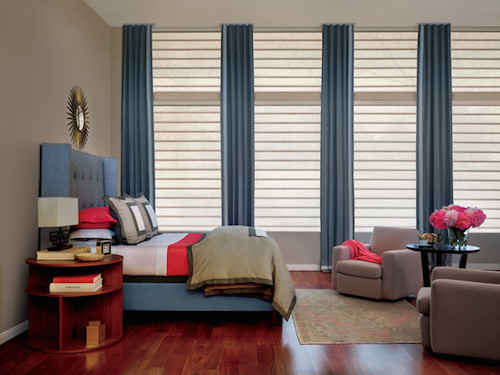 Traditional Roman Fabric Window Shades
The marvelous thing about Hunter Douglas Design Studio™ Roman Shades is the ability to purchase the same fabric by the yard. Not only does this mean you could have a timeless custom fabric window shades and coordinating draperies, but you could also upholster furnishings or accessories to match your window treatments. Different tones and complimentary colors in the same type of fabrics can create a pleasant atmosphere.
Heavier Draperies and Sheer Window Shades
The elegantly engineered S-shaped vanes of Hunter Douglas Silhouette® Window Shadings appear to be floating between to sheers. The fabric window shades that allow you to tilt the vane to achieve your desired level of privacy and light. Couple these fabric window shades with heavier drapes in winter for a warm and cozy appearance. Gain both light filtering celestial beauty and room darkening coziness all in one window treatment. Warmer months call for light curtains or sheers combined with Hunter Douglas shades. Any Hunter Douglas window shades pair well with custom drapery. Design Studio™ Roman Shades are combined with silk draperies below for a stunning look on windows.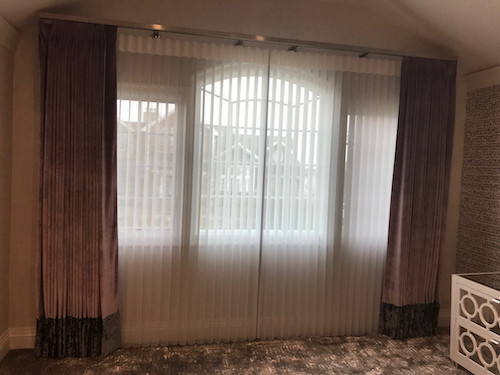 Duette ® Honeycomb Window Shades
Create a modern and crisp look with Hunter Douglas Duette® Honeycomb Shades. The straight lines and fine shadows of the pleated Duette® Honeycomb Shades work beautifully with soft flowing custom drapery. The cellular construction provides maximum insulation to your windows. Helping to reduce your heating and cooling energy bills all year round. Hunter Douglas has more inspiration on the different types of fabric window shades you can combine with draperies.
Soft Light Filtering Sheers and Drapery
If you want your windows to have visual softness as well as voluminous fabric, layer drapes, and sheers. Hunter Douglas Luminette® Privacy Sheers feature soft rotating vanes affixed to sheers. The ethereal beauty of the Luminette® Privacy Sheers and the deeper texture of the drapery allows you to control the light in your room however you want.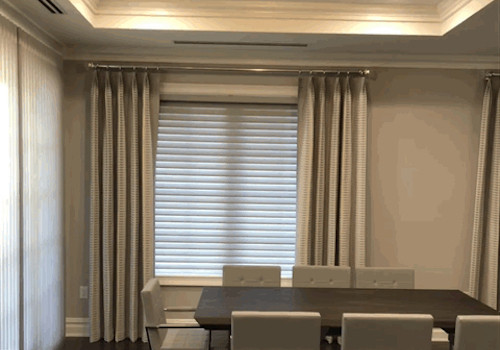 Modern Fabric Window Shades
The modern alternative to traditional fabric window shades is Hunter Douglas Pirouette® Window Shadings. Bold and uniquely contoured, Pirouette® Window Shadings soft fabric vanes blossom or close to provide light and privacy control.Think of accessories, trims, and hardware next. Don't be afraid to accessorize. If you are in doubt at all, speak to the interior design specialists at United Decorators. From furniture reupholstery, custom draperies to custom bedding and beautiful window treatments, United Decorators is known for its superior design skills and spectacular fabrics. With the ability to upholster your soft furnishings around your home, you'll be able to create a spectacular visual and an atmosphere totally unique to you and your home. Contact United Decorators today to schedule a free design consultation.
The design experts at United Decorators have been helping homeowners cover their windows in style for over 45 years. If you're looking for one-on-one Hunter Douglas window treatment assistance please call 718-253-9300. Flexible appointment times are available in Brooklyn, New York City, New Jersey, and Staten Island.